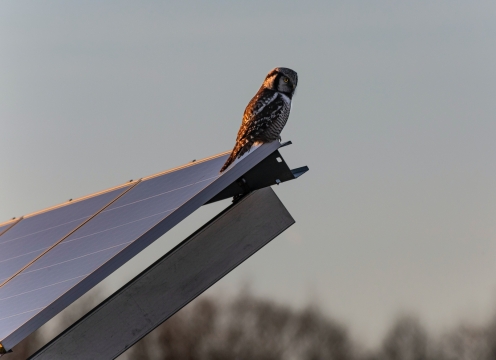 Kronos Solar
Founded in 2009, Kronos Solar is successfully around for more than a decade. We are a Solar Powerhouse at the very heart of the Green Power Transition.

Kronos Solar makes utility scale solar farms happen internationally across numerous countries. As a fully integrated Solar Development Player, we initiate and develop solar farms, we structure the finances, and we build, own and operate projects over the complete lifetime.

Kronos Solar takes pride in being one of the most successful Solar Park Developers globally. with a track record quickly pushing towards the 2 GW mark.
EDPR and Kronos
A big step forward for both companies
The 70% Financial Participation of EDPR into Kronos Solar in 2022 has proven to be a big step forward for both comapnies.

While EDPR has been able to complement ist geographical footprint to some of the most attractive global Renewables Markets, Kronos has been able to benefit since from EDPR's financial strenght and vast set of capabilities.
 
EDPR and Kronos together combine the capabilities of a typical German Mittelstands Company , such as agility, speed, responsiveness, handshake agreements and personal trust, with the abilities of a multi Billion EUR power house.
EDPR & Kronos together combine the capabilities such as agility, speed, and responsiveness.
EDPR delivers Kronos nearly unrestricted financing and innovative skills. Some of the most important benefits of this marriage are:
With EDPR, Kronos does not seed to sell most assets after construction, the financial strenght of a 20 Billion EUR+ Balance sheet means we can develop, build , own and operate most solar parks for their lifetime.
With EDPR, Kronos does not need to seek Project Finance, we can instead finance from the balance sheet, which means there is no risk of financing and compared to most Competitors a faster project realization by more than a year.
With EDPR, kronos has access to one of the best global Teams to conclude Power Purchasing Agreements as recently with Google for a Netherlands Project Pipeline of Kronos. This is a capabiity most mid-size Competitors do not have, which positions us perfectly for Projects outside national subsidy schemes such as the EEG for Germany of the CRE for France.
With EDPR, we have a much stronger Balance Sheet and finances, allowing us to procure long term lead items auch as Transformer stations much before building permits, making our projects up to 2 years faster than those of less financially strong competitors.
With EDPR , we have full committment to a Kronos agreements and promises. Kronos' word stands strong and is fully respected, when carrying out projects on the local level. Kronos committments to Landowners and municpalities will always be held.
With EDPR, we have full access to global innovation, we can add wind, green hydrogen, Battery storage to our projects based on the global best practice know how. We can also complement projects at a later point in time when national legislation opens up for new adjacent Renewables Businesses.
We aspire to demonstrate this to our partners every day
Strategy & Distinctiveness
At Kronos, we operate projects for +30 years and control the complete PV downstream value chain, with a strong focus on the mission critical Project Development & Origination that always performed in-house, across all countries of business.